What is Video Collaboration? Video collaboration is a form of virtual teamwork that makes use of various technologies to simplify the completion of any task. These tools are commonly employed by organizations, especially creative teams, to facilitate open dialogue about prospective new business initiatives.
It could be difficult to express customer approval for movies, especially if you work for a marketing or advertising firm. Online team communication has also become increasingly important over time due to the possibility that team members may be separated across the world or unable to meet in person.
Working remotely is more common than ever, and it's easier than ever to communicate with colleagues in other cities, states, or even other continents.
Designers may utilize video collaboration platforms to collect feedback and approve artwork in a professional manner, with nothing lost in translation.
In this post, we've compiled a list of advantages to having video collaboration platforms for your business benefits.
Engaging
Since they are separated from the other attendees in audio conferences, participants often drift off and multitask. However, maintaining "virtual eye contact" is also important while using video since it boosts interest. You're more likely to employ the communication techniques we've all honed in face-to-face interactions when every conference participant is visible.
Efficient
One of the most obvious yet essential benefits of video collaboration is the reduction in travel time. Meetings with clients, suppliers, and satellite offices may consume hours of your time; even a one-hour meeting may easily turn into a morning-long activity when travel time is taken into account. If your company is committed to environmental stewardship, teleconferencing is a much more environmentally friendly option than in-person meetings.
Saves on Travel Money
It takes a lot of time and money to travel. For training, conferences, and business meetings, people travel great distances, and in the majority of situations, online video collaboration software may be utilized to replace in-person contact. Spend the cash you would have spent on business travel for an investment in a project that is more important to your company.
Improves Communication
According to study, humans process visual information more quickly and accurately than they do spoken or vocal information. Your attendees will retain more information and comprehend it better when you use video conferencing than if you held the conference over the phone.
Connects Teams
Teams are spreading farther apart geographically due to a multitude of factors. Some independent contractors work from other countries, while others are just traveling for work. You can work from home if you're a regular employee or a freelancer. Huge distances are irrelevant when you can convene your team via video collaboration platforms, whether for scheduled meetings or last-minute check-ins.
Improves Productivity
You may connect for a quick video conference call with your colleague instead of sending an email and hope for a quick response, using the screen-share tool to carry on working on your project.
Improves Attendance
It could be challenging to coordinate busy schedules and gather staff for in-person meetings. Video collaboration offers the kind of adaptability that can boost conference attendance while also capturing the discourse for people who couldn't make it.
Provides Structured Meetings
Video collaboration often have pre-determined start and end times since participants can dial in from anywhere in the world. As a result, there will be less idle talk and more work during the allotted period. You're more likely to use an agenda and adhere to it if you know the meeting must end on time.
Helps Employee Retention
It goes without saying that keeping a positive work-life balance is essential to employee retention. Because of the mobility and flexibility offered by video collaboration, people have more influence over their workdays, which increases retention. Remote workers will feel more a part of the team and connected if they can regularly interact face-to-face with their peers.
Gives a Sustained Competitive Advantage
It's clear from looking at all of these advantages that video collaboration platforms might provide your business a competitive edge. By cutting costs, fostering a stronger sense of teamwork, and holding more productive meetings, you may streamline many of your current obligations while simultaneously fostering more collaboration.
11.    Gives Recording and Playback Options
The option to record and repeat a meeting or training session utilizing Amazing Video Collaboration Tools for Your Project is another important advantage. For instance, training videos can be stopped, sped up, or replayed. As a consequence, participants may watch the video again right away and continue learning at their own pace.
Organize live and virtual events
With the use of this video technology, you may simultaneously stream video and meeting materials from your business to a virtual event audience. The meeting is facilitated by the event host, who also distributes the presentation to the other attendees. This is a one-to-many communication technique. You may offer dynamic and engrossing live video streaming experiences to customers and employees. It's an excellent tool for a successful communication revolution since you can easily create live and on-demand events that transmit compelling messages to your target audience.
Take Away
As a communication tool, video collaboration is gaining popularity at an unprecedented rate. Businesses want to reap the benefits of increased collaboration. The various advantages of video collaboration are rapidly realized by those who use it.
Two measurable benefits are lower travel costs and higher productivity. Among the more important advantages are enhanced communication, more solid corporate relationships, and more effective meetings. Businesses may improve their competitive edge by making their employees happier and having a less environmental effect.
Break through the noise, Get clear client reviews on your projects "FAST". Now!
Some other Posts you might be interested in.
The Review Software Standoff – Part 1 – QuickReviewer vs Filestage In today's fast-paced digital world, efficient collaboration and project management are crucial for your creative teams. However, communication, workflow or approval-related bottlenecks often delay the...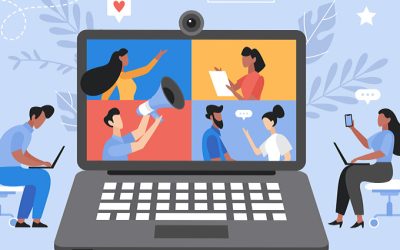 Effective collaboration is the lifeblood of modern businesses. Organisations are turning to team collaboration tools to streamline workflows, improve productivity, and enhance communication among team members. Collaboration in the workplace is the cornerstone of...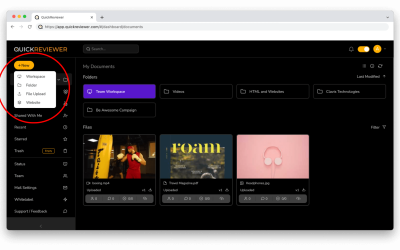 The digital age has revolutionized how we collaborate, especially in design and content creation. Review and approval processes are crucial in ensuring that projects meet the desired standards before they're finalized. Ziflow has been a popular choice for many when...