What is a Collaboration Tool? A collaboration platform for teams aims to increase the effectiveness of teamwork by providing a central location for staff to freely share information, data, and documents in order to complete creative projects or address specific business challenges. The team may work together in the cloud from any location, fostering innovation and accelerating work to boost productivity and business growth.
Teams may easily collaborate online on a number of general and niche tasks using the finest collaboration platform.
Employees are no longer expected to work alone, and online collaboration tools are the new standard in the workplace. This emphasis on collaboration ought to boost productivity and efficiency, but only if the right tools are first used.
These services would be accessible on both mobile devices and desktops and laptops, and they would include cloud document storage and video conferencing for online meetings.
Above all, everything should be clear, understandable, and simple to use. Regardless of their position, every employee should be able to talk with the right person about the same matter. Address the problem next using the relevant method.
Let's examine some of the most effective teamwork tools in recent years.
QuickReviewer: QuickReviewer is a best online proofing tool for designers, web developers, and marketers who wish to collaborate on design projects more rapidly and obtain quicker feedback and approval. It is a great collaborative tool as it makes the online proofing process very simple and remote. It aids in the examination of images, videos, live web links, HTML, PDFs, and audios. QuickReviewer's mobile-responsive UI allows users to study and approve files on their mobile devices. QuickReviewer makes organizing comments on creative work easier by removing the need for many emails or files. Users can add comments by highlighting text, pointing out changes, or sketching changes, and comparing versions side by side. Adding real-world links or dragging and dropping HTML zip files to test designs on different screen widths, animated HTML banners, responsive web pages, and more will make creative collaboration a breeze.
Zoom: Although many companies have "used Zoom" for years, it would have been hard to foresee how crucial this technology will become in the workplace of the future before 2020. Zoom is the leading video conferencing product on the market right now and is used by teams for virtual activities and group meetings. These days, a lot of individuals utilize Zoom to chat with their friends and family since it is so simple to use. Simply start a Zoom meeting in the app and ask the participants to join to start a video conference. Even better, Zoom is entirely free for calls lasting under 40 minutes and including 100 people. It has breakout rooms for dividing big calls into smaller, easier-to-manage groups, integrations with many tools and apps (like Zoom and Hive! ), interactive meeting features like filters, reactions, polls, and more, connectivity with calendars on Gmail, Outlook, or iCal, meeting recording and transcription, and chat with individuals and/or groups within meetings.
Google Slides: It's an excellent tool for remote team collaboration for developing, modifying, and presenting presentations. The conventional Google Slides tool is elevated to new heights by the Google Workspace business plan feature. With this strategy, teams may gain additional protections and controls over presentations, facilitating internal and external cooperation. Templates make it easy to get started with pre-made pitches, portfolios, and other presentations. Documents kept in the cloud are accessible from anywhere. Offline editing and presentation options the auto-save feature makes sure that your work is saved. Real-time editing, commenting, and discussing are all available within presentations. You have a variety of authorization options when sharing with anyone (internally or outside).
Slack: This technology is one of the most widely used platforms for team collaboration and instant messaging in businesses of all kinds. With tools including direct messaging, group messaging, channels, phone calls, and video calls, Slack unifies all facets of business communication in one location. These numerous communication options might help your team structure interactions and concentrate on the things that are most important to you. You may decide whether to make channels and groups public or private with this feature. Even if projects or channels are no longer active, you may cooperate with several businesses in one channel using Slack Connect, which still has a searchable history.
ProofHub: With ProofHub, all of your project management, communication, and collaboration tasks are consolidated on a single platform. With its powerful features, ProofHub can help you collaborate on files, communicate, exchange real-time feedback, and maintain organization in your professional life. You can access everything from a single spot thanks to ProofHub's integration with other applications you already use. A dedicated area for in-the-moment chats, a group chat tool, bespoke processes, kanban boards, project planning with Gantt charts and project timelines, several project views (table view, timeline view, board view, calendar view), among other things. It's also available as a mobile app and browser for iOS and android.
Bit.ai: Bit.ai is one of the greatest and most powerful document collaboration platforms for teams on the market, allowing teams to collaborate on dynamic notes, papers, deliverables, wikis, and training materials, among other things. These collaborative documents are sleek and well-designed, with the ability to transition seamlessly from text to video, spreadsheets, and more. Users can combine components in an infinite number of ways. Users may co-edit and comment on components in real time once they've entered a document.
Dropbox Paper: Dropbox Paper, like Google Drive, allows you to collaborate in real time on your saved files and papers. However, it goes a step further by assisting users in planning projects, collaborating on ideas, and taking real-time meeting notes with assigned next tasks. DropBox is beneficial to teams who currently use other project management solutions since it interacts effortlessly with Hive and other platforms.
Brandfolder: With Brandfolder, you can upload, store, organize, and share an endless number of files in a safe area, with several degrees of security. There are also drag-and-drop and bulk upload options. Partners can contribute files as guests without having full access. It can handle a wide range of file kinds, including photos, video, audio, and documents. Google Analytics, Salesforce, HubSpot, WordPress, Adobe Creative Suite, and Microsoft Office are among the creative tools it can interact with.
MindMeister: Visualizing data, organizing projects, and brainstorming ideas are all made easier using mind mapping and collaboration tools like MindMeister. Using pre-set map themes or customized maps with colors, styles, formatting, and pictures that best suit your needs, this application allows teams to communicate and exchange ideas in real time.
Hugo: During the note-taking and editing process, this application allows team members to communicate in real time. Then, for actionable next actions, tasks may be given to particular personnel. It interacts with many of your team's existing tools, allowing you to keep everything organized and linked. It is a calendar-based application. Meeting links between Microsoft Office 365 and Google. It comes with real-time multi-user note editing, shared meeting agendas, and agenda templates to help you set the tone for effective meetings. It also works with over 20 different apps, including Slack, Zoom, Jira, and Hubspot.
Jostle: Jostle has capabilities such as the ability to exchange files, send messages, and commemorate significant milestones or special occasions. Teams can stay connected and feel like they're in the office with Jostle, even if they're working from home. It contains an activity feed to stay up with the latest corporate news, tailored announcements for specific groups or teams, discussion boards to connect people and teams, a library to store critical company papers and rules, and the ability to exchange files and assign tasks to team members.
Conclusion
Global employees are increasingly working together on the same project. A more dispersed workforce is becoming increasingly popular, which necessitates internet cooperation. Online collaboration platforms for teams are being used to bridge physical distances between coworkers, plan productive meetings, and make sure that everyone is working from the same document simultaneously. This will hasten task completion and enhance inter-employee communication.
Some other Posts you might be interested in.
The Review Software Standoff – Part 1 – QuickReviewer vs Filestage In today's fast-paced digital world, efficient collaboration and project management are crucial for your creative teams. However, communication, workflow or approval-related bottlenecks often delay the...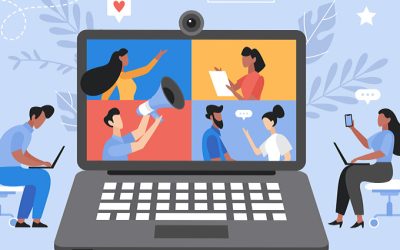 Effective collaboration is the lifeblood of modern businesses. Organisations are turning to team collaboration tools to streamline workflows, improve productivity, and enhance communication among team members. Collaboration in the workplace is the cornerstone of...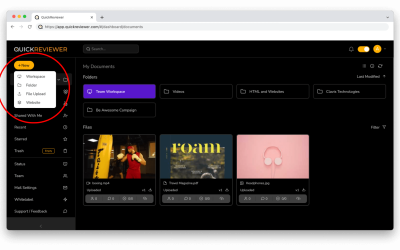 The digital age has revolutionized how we collaborate, especially in design and content creation. Review and approval processes are crucial in ensuring that projects meet the desired standards before they're finalized. Ziflow has been a popular choice for many when...
Break through the noise, Get clear client reviews on your projects "FAST". Now!