Do you know what's the worst part about reviewing or collaboration software? Figuring out which one to get. As a designer, I am constantly thinking about the thousands of unnecessary scenarios that no one will ever encounter with a review tool—but maybe that's just me.
Anyways, enough of the ramble—let's get to the point. So, I just joined a new design agency, and it turns out that they were still doing things the "old-fashioned way". You know, emails, calls, texts, walking over to people's desks and screaming at them for reviews. Yes, that.
As the new creative director who is also tech savvy, I could not let that happen to my team—so I decided to shoot myself in the foot, take charge and look for the best design software money can buy—as long as there's a free version of it!
What to look for in online collaboration software or review software in 2023?
The collaboration software world is full of standard features such as automation, streamlining, communication, workflows, and faster reviews. While every tool you review will boast of all these benefits, you must be diligent while choosing the software you need—it is something you cannot change every day (just like getting a Windows-based PC instead of a Mac or vice versa).
Here are the top 5 things you need in any collaboration software:
A forever free version
Outstanding team communication
A price that works for you
A user experience that makes reviewing easy
It has all the features you need—and then some
Although this might sound like a silly list, trust me—when you're reviewing dozens of different types of files every day with a deadline that has already passed and a budget that makes you think, "why bother?" you will need these things. So, let us dive straight into reviewing our five contestants without further ado.
Here are the five that made the cut:
Ziflow
Page Proof
Review Studio
QuickReviewer
GoVisually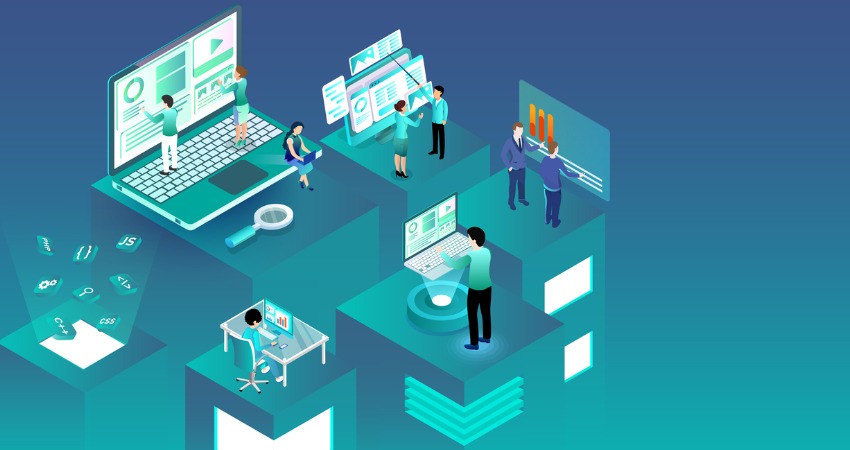 What is team collaboration (and review) software?
First things first. If you're new to the game, you must know what team collaboration software is.
Collaboration or collaboration and review software is an application that helps multiple stakeholders of a project meet deadlines with minimal fuss. The tool helps teams complete projects with multiple reviewers by giving them an online workspace where they can discuss, give reviews, share files and work as a team.
An example would be best to illustrate and explain what online collaboration and review software is:
Suppose you are a design agency with interns, designers, senior designers, art directors and project managers. Now, the project manager has a design task for which he contacts the art director. The director divides the task and sends it to the design team, who further distribute it down the chain of command—if needed.
Once the intern completes their work, they send it to their lead (designer) for review. The lead can mark comments and accept or reject them. Once the lead is OK with the design, he assigns it to the next person in charge for their comments on the final version. Once the version looks like what the client wanted, the Project manager sends it to the client.
This is how a design agency typically works—and this is what collaboration software or collaboration and review software do—with a catch. As items are assigned to each stakeholder, you do not need to fish for emails or look for a file someone shared. Everything is right there in the workspace, with complete transparency so that everyone understands who is holding up the project. This gets things done faster—which is why every creative team needs collaboration software.
Choosing the best collaboration software
Disclaimer: You might not agree with my views or believe that you do not need such software to function efficiently—and you may be right. However, understand that this is my view of the software I reviewed painstakingly over a week or more.
Ziflow
I love Ziflow, mainly because they have a version that is free forever, which is very important for me. I may want to use software for a month and see if I like it and not get rushed into buying something just because the trial was for seven days.
Here's what I liked:
Ziflow has fast and accurate feedback for videos, images, text and many more creative formats
I can compare versions and have collaborative discussions
Approvals are easy to design (in the paid version)
Connects with dozens of tools such as Google Drive, Dropbox, Monday, Asana and more
What I did not like:
The business version is expensive and begins at $50 per seat per month unless you stick to an annual commitment.
No workflows in the free version
PageProof
If you're into integrations and have teams that use a variety of tools, look no further. PageProof has a pageful of integrations that work with all your favourite tools and more! Although I could not try all the features because their trial is limited to 7 days, I did try out some. The ones I loved include:
Simplicity: The tool has straightforward markup tools that are perfect for annotation and do not overwhelm the user.
Automated workflows: These make routing proofs easy. The workflow control is simple and flexible.
Compliance: PageProof is ISO 27001 compliant and works with SSO and data sovereignty requirements worldwide.
Briefing: Sending briefs is always a pain, and PageProof makes this a cakewalk. The tool is perfect for initiating a creative brief.
Intuitive: What I loved about this tool was its simplicity. It did not overwhelm me with options at any time. Simple, innovative and to the point!
What I did not like:
No free forever version: I love a free version, even if it is limited in its options. The options I needed were only in the team-plus plan.
Extremely expensive for small agencies and freelancers: the tool begins at over $199/month, which can quickly become overwhelming for small agencies. Although the catch is that you can add multiple users for a fixed price, a small agency or a startup will have to shell out $199 each month before they get a chance to scale.
ReviewStudio
ReviewStudio is a content-centric collaboration tool that helps teams centralize their feedback and approvals to keep everyone aligned. The tool has all the features you can expect from a fully featured online proofing software, including live reviews.
What I liked about ReviewStudio:
Intuitive layout: It is effortless to find what you need to do. It literally took me seconds to start reviewing once I set up the 15-day trial.
Live reviews: I loved the live reviews feature where teams can get together and go through a review process together.
Seamless feedback: The feedback process was seamless, and multiple reviewers could collaborate at the same time
White labelling options in the enterprise version
What I did not like:
No free forever version: As discussed earlier, a free forever version helps me take my time and decide whether I want the tool. Also, if I am a freelancer that only wants a review from clients occasionally, the $20/month price tag per user seems a bit steep.
Not feature-packed enough for small teams.
QuickReviewer
QuickReviewer is a power-packed review platform that helps content creators, reviewers and customers be on one page—helping them get more done faster than ever before. The tool's intuitive review window, intuitive review workflows and white labelling options make it the perfect choice for agencies large and small.
What I liked about QuickReviewer:
A free-forever plan is possibly the most important thing for me on the list, but a free-forever plan helps me review and work at my own pace.
Integrations: QuickReviewer integrates easily with most apps such as InDesign, Illustrator, Google Drive, Dropbox and many more! Their list of integrations is growing by the day.
Task lists: QuickReviewer eliminates the need for task management software, helping you work easier and faster.
Powerful annotations: users can download files such as PDFs with annotations or comments, making it easy to share reviewed content with those not on the platform.
Custom statuses and team workflow management: our teams like to choose their proofing statuses according to our client's requirements. The custom status management system helps clients feel at home at the outset.
YouTube reviews: I love the fact that I can review YouTube videos!
What I did not like about QuickReviewer:
No integration with ClickUp: We use ClickUp extensively, and QuickReviewer does not integrate with it—or with it "yet" if we go by the support team's wording.
Cost: with Pro costing $29/month, the pricing is on the higher side, but this supports up to 10 users—making it a no-brainer for most small agencies. If you cannot spare $29, work with the forever free version to save even more!
GoVisually
GoVisually is an online proofing and review software that promises to cut your review time in half. This straightforward tool works with designs, PDFs and videos. Here's what I loved about it:
Easy to use: Although some might find it too simplistic, I loved that I could get down to business quickly.
Review statuses, updates and reminders: I love their reminders. Although every review and collaboration tool has reminders, the process of setting them up was more straightforward with GoVisually.
Zapier integration: You can connect to a bajillion apps with Zapier. This integration helped us use any platform we wanted, no strings attached.
Auto tasks from feedback: Tasks are created automatically from feedback, but this can sometimes become overwhelming if there are a lot of reviewers.
One-click approval workflows: A click and a link—that's all it takes for GoVisually to set off an approval workflow.
What I did not like about GoVisually:
Lacks the finesse of other tools: Simplistic is good, but enterprise customers want finesse and attention to detail, which seems missing in this otherwise great tool.
No YouTube Video support: I often have YouTube videos that we rehash and republish. If a tool does not process YouTube videos, it does not fit our workflow!
No forever free version: $20/user is expensive. $50 for teams, even more so. The lack of a forever-free version makes me think of other options unless I love their UX.
My Choice
There's no perfect review or collaboration tool. Every tool might have a shortcoming or two, or you may like one better than the other, but at the end of the day, if the good outweighs the bad bits, you're good to go. Regarding my personal preference, I would not choose a tool without a forever free version if I am starting up. This makes QuickReviewer my number-one choice on the list. With outstanding features, a Pro version that does not break the bank and loads of options to choose from makes QuickReviewer the number one online reviewing platform in its class. However, this does not mean that every other tool I reviewed was not good enough. They were good, but QuickReviewer had all the features I needed to ensure that my reviews went through seamlessly without a hitch.
Final thoughts
No two review or online collaboration tools are made the same. Every company interprets the needs of their customers and decides what they wish to include in the software. The only way to know if the tool works for you is to register for a forever free version or a trial, use it and see if it works out for you. I hope this article helped you save some hours from your busy schedule and helped you narrow down the tool of your choice. Happy Reviewing!
Break through the noise, Get clear client reviews on your projects "FAST". Now!
Some other Posts you might be interested in.
The Review Software Standoff – Part 2 – QuickReviewer vs Frame.io Stress reigns supreme when it comes to creative workflows. Creative teams often firefight with clients, video production, and post-production teams. However, as reviews have become increasingly...
A video is possibly the most difficult nut to crack in the creative world. Don't get me wrong—other forms of content, such as blogs, social media posts, UI, and graphics can be as complex as a video. Still, the sheer number of people involved in the production of a...
What is knowledge management? Knowledge management refers to an organization's or team's capacity to work together toward a common goal. Knowledgebase management encourages teams to go outside the box when developing methods for attaining their goals. It's a...