What is Collaboration Software?
Collaboration software is intended to improve collaborative efficiency by offering a central platform for employees to openly exchange information, data, and documents in order to solve specific business problems or finish creative initiatives. Members of the team may collaborate from any location on the cloud, stimulating creativity and accelerating work in order to increase profitability and corporate growth.
The best online collaboration software makes it simple for teams to work together on a variety of general and specialized tasks.
Collaboration is the new normal in the workplace, and employees are no longer expected to work alone. This focus on cooperation should lead to increased efficiency and output, but only if you start with the best tools.
These services may range from cloud document storage to video conferencing for online meetings, and they'd all be accessible via mobile devices as well as PCs and laptops.
Above all, everything should be easy to use, understand, and avoid misunderstandings. Every employee should be able to communicate with the appropriate person, no matter where they are in the firm, about the same issue. Then, using an appropriate technique, deal with the issue.
Features in Collaboration Software's
Although the market for collaboration software is large, the majority of products will offer the following essential features:
Use of social media
Internal communication is divided into channels, each of which is labeled with a topic. Employees can see all public chats, but they don't have to navigate through unnecessary ones to get replies from team members about specific projects or tasks.
Document management:
When combined with collaborative tools, cloud document management is non-negotiable and extremely successful. Individually developed papers may be shared straight into social networking feeds for feedback, or team members can draft and update them together.
Robust search engine
Finding segregated data may be time-consuming and stressful for projects and problem-solving. Employees may use a wiki search to discover any public document or previous conversation using a single platform and a simple search.
Task administration
If the goal of collaboration software is to speed up projects and problem-solving, then having all of the chores needed to reach a resolution in one place makes things even easier. Monitoring project progress ensures that everyone in the team is on the same page and that the deadlines are met.
User-interface that works on any device
There's no need to put up with clumsy, hard-to-use collaborative software. Your staff will not want to utilize it, and your investment will underperform. On a PC or on a mobile device, top-notch tools are simple to use.
Safety precautions
While server encryption on the vendor's end is critical, weak internal control is the most common source of security breaches. For regulated internal data access, collaboration software should provide customizable permissions at suitable levels. Some systems provide additional authentications and security mechanisms to assure data security.
Advantages of Collaboration Software's
Increased Productivity
Teams may approach goals with focused energy and efficiency thanks to shared knowledge and coordinated dialogues. Collaboration software is used by 80 percent of firms to improve corporate processes, improving productivity by up to 51 percent.
Quality Work
Employees may access any knowledge across the firm using a collaboration platform, boosting creativity and innovation, rather than being limited to a small circle of colleagues for advice or input. Customers benefit from the results, as innovative goods and exceptional service meet their demands.
Improved Alignment with the company's vision
Employees desire to be more engaged in their company's goal and values, according to 89 percent2. Workers often lose sight of the overarching purpose and direction of their job in the thick of the daily grind. Employees that use collaboration software are informed about internal changes, industry news, and corporate development on a regular basis and may apply this knowledge to their everyday tasks.
Relaxed and Engaged Employees
In a relaxed setting, collaboration software allows senior management, teams, and individuals to communicate. Instead than using cookie-cutter emails, senior managers use a news channel to communicate important information with direct authenticity.
Positive Workplace Culture
Employees in office bubbles tend to gripe and be nasty about their workloads or coworkers, but they will think twice before publishing non-constructive, negative remarks on social media. In contrast, the daily focus switches to achieving goals and publicly celebrating accomplishments.
Data and communications gathered in one place
In today's technological environment, switching back and forth between various business apps has become a common occurrence. Two-thirds of employees say they waste 60 minutes4 everyday switching between applications. Finding documents, selecting a communication channel, and performing tasks all take up space on laptop displays, but collaboration software decreases the amount of time spent switching between tabs and reduces aggravation.
Discretion
Teams using collaboration tools in public are more likely to notice faults or bottlenecks and may work together to solve problems rather than blaming one other. Employees who have access to things like calendars and internal data have a better grasp of the firm and can see how they fit into the greater picture.
Strong and Dynamic Teamwork
According to Gartner researchers, 70 percent of firms that use collaborative management systems will see substantial improvements in team performance by 2020. Many studies have demonstrated that when high-performing employees seek help, they get it. Collaboration software provides a sense of closeness that makes reaching out for help more efficient and less daunting.
Attract and Retain Great Talent
Professionals are on the lookout for companies that offer cloud-based collaboration tech products. Every year, the number of remote employees and freelancers grows, and collaboration software allows a company to quickly link remote workers to a team for a one-time project or continuous work without having to go through a lengthy hiring process.
Conclusion
Employees from all around the world are increasingly collaborating on the same project. The shift to a more scattered workforce is gaining attraction, demanding online collaboration. Online collaboration is used to overcome geographical gaps between employees, organize successful meetings, and ensure that everyone is on the same page at the same time. This will help to speed up work completion and improve employee communication.
Some other Posts you might be interested in.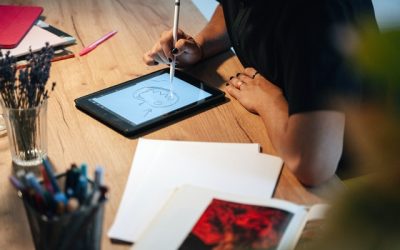 In the dynamic world of advertising, reputation and credibility is everything. Ad agencies constantly strive to maintain and enhance their reputation by delivering high-quality, innovative, and visually striking content to their clients. One key factor that can...
A video is possibly the most difficult nut to crack in the creative world. Don't get me wrong—other forms of content, such as blogs, social media posts, UI, and graphics can be as complex as a video. Still, the sheer number of people involved in the production of a...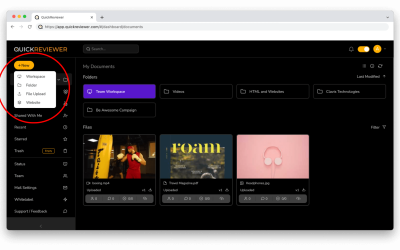 The digital age has revolutionized how we collaborate, especially in design and content creation. Review and approval processes are crucial in ensuring that projects meet the desired standards before they're finalized. Ziflow has been a popular choice for many when...
Break through the noise, Get clear client reviews on your projects "FAST". Now! ?