Any team that develops marketing or brand material has to have a creative review and approval procedure in place. We'll go through the top ten recommendations for creating a review and approval process that speeds decision-making and makes content sharing across teams easier as it's generated, monitored, amended, authorized, and released in this article.
The collaborative process that happens around the production and finalization of creative material is known as the creative review and approval process. Print adverts, websites, product labels, and legal papers are all examples of this.
The review and approval process encompasses all of the various versions, choices, sign-offs, comments, feedback, and stakeholders involved in bringing a piece of content or a marketing campaign from concept to completed product. Finally, creative review and approval is the sequence in which material and information flows for creative decision-making and changes.
In these Covid times where work from home is the only choice, using these best practices will not only save a lot of time during content production, but also increase cooperation and consistency among all your creative contributors. Everyone in your Design, Copy, Marketing, Client Services, and Compliance teams will be able to watch ongoing development of content and make better-informed decisions and final approvals faster by implementing greater control and automation over the creative review and approval phases.
So let's take a look into the best practices for creative review and approval process,
Step 1: Build review stages
The first step in creating a workflow to automate the creative review and approval process is defining a review stage. The natural temptation is to create a separate review step for each team that requires information analysis.
However, while deciding how to describe the phases in a review and approval process, visibility is the most crucial factor to consider. When you think about visibility, you're thinking about the information you'll need when you're looking at more than one project. Determine the facts about a project or evidence that you want to be able to notice immediately, where the delays in the process are occurring, whether it is being bottle-necked in development or compliance, and impending deadlines that you need to fulfill when looking at numerous projects.
As a result, knowledge of decision sign-offs and review and approval dates is more important than knowledge of individual groups or stages.
Step 2: Segment review group members
The next stage is to determine which tasks should be divided into segments. This will help you figure out which reviewers should be allocated to which review group and when along the process. When you're building out your review process in stages, segmentation sounds like a simple thing to think about early on, but it's often missed.
When you're setting up your review process in phases, segmentation may seem apparent, but it's sometimes ignored. When a section of a project is still in process, everyone has to interact with each other. Comments and cooperation should either be private communication between group members or public communication that any stakeholder can view on the content piece.
Step 3: Defining client engagement rules
You'll frequently need to incorporate stakeholders from outside your company, as well as members of your own team, in the document review and approval process when building review groups.When looking at their own internal-external review process, there are a few factors that everyone should keep in mind.
You must decide how you want to proceed with this discussion, including who from your team should communicate with the customer, the papers that must be given, and so on. Before developing a new version, you must also decide on the drivers for it based on external input, as well as how to set the cut-off point for receiving feedback. These questions can help you choose not just when and when to bring in consumers for review, but also when it comes to versioning and project schedules.
Step 4: Use deadlines and automated reminders
Deadlines are important because they impose procedures that automate review duties and remind you to do them. Deadlines assist keep your review on track and prevent your project from becoming stalled just because one stakeholder has failed to submit feedback. When a project becomes "stuck" in review duties, they also help identify bottlenecks.
As a result, we usually recommend setting review and approval deadlines for all creative teams. If required, you can extend dates, but you must set comparable deadlines for each part of your creative review process. It's also crucial to set timelines for each review and approval step, not only for the whole project.
Step 5: Link comments to content versioning
A comment on a creative review and approval process can either be the reviewer's thought or a requested change. It's vital to be able to rapidly categorize and filter comments as required modifications to avoid producing infinite versions of a piece of content and to cut down on the time your creative team spends on superfluous updates. As a consequence, you'll have more control over the version numbering of your material.
Step 6: Align version numbering around review rounds
The next step is to figure out how many internal and external rounds are required to complete a project. It's vital for process efficiency to establish a version numbering system that distinguishes between internal and external versions.
Choose the appropriate organizational structure for review comments to begin. The first step is to categorize comments as actionable or non-actionable in whatever way makes sense for your workflow. After that, differentiate between internal and external review and approval phases.
This will assist you figure out how to distinguish between internal minor versions and how that relates to the versioning that your external reviewers will see.
Step 7: Use automated workflow templates for multi-stage approvals
For complicated multi-stage review and approval procedures, automated workflow is a highly effective tool. It directs the flow of data through new stages in real time, depending on real-time judgments, comments, and actions based on a set of established parameters.
Make sure you know how much you need to automate and how many process templates you need to create initially. Then you may choose who will begin the initial review step. Automated workflow can fully reduce that strain and uncertainty by creating a preset review path.
Step 8: Add reviewers to multiple stages
It is preferable to have a reviewer at each step. The flexibility of having the same reviewer at many phases of the creative production is enabled by automated proofing workflow capabilities. You must examine what reviewers must perform in both the first and later stages, standardize decision sign-offs, and approach this process from a deadline-driven standpoint.
Step 9: Identify redundancies in your workflows
When designing review and approval procedures, consider how to create review phases that minimize unnecessary effort. As review and approval continue, using the same approach for each version of a piece of material can occasionally result in superfluous effort. If the same review technique is utilized for future revisions of a piece of material as it was for the first, it may result in additional steps and time. Consider where you could be losing time by not skipping a step throughout the review and approval process. Figure out which teams need to collaborate and when they need to cooperate. Those steps might be bypassed if that set of obligations has been accomplished.
Step 10: Reduce collaboration delays by using sequential and parallel reviews together
Different sorts of review procedures can also help when a former reviewer has to be looped back into the review process.
There are two different sorts of review structures that may be utilized in conjunction with one another. Linear reviews are phases in a workflow that are performed in a certain order. When some or all steps of the process are being evaluated at the same time, this is known as a parallel review. Adding or combining sequential and parallel review procedures can significantly speed up the review process and reduce time-consuming back-and-forth between reviewers.
Conclusion
There is no one-size-fits-all strategy to creative review and approval, but automating, centralizing, and streamlining your review process is crucial for faster creative project delivery and a less chaotic feedback loop.
These 10 steps can assist you in developing a review and approval process that is adaptable and dynamic enough to manage any sort of creative project, whether it includes repeating the same work or working on unique projects for a variety of customers in these work from home settings.
Some other Posts you might be interested in.
The Review Software Standoff – Part 1 – QuickReviewer vs Filestage In today's fast-paced digital world, efficient collaboration and project management are crucial for your creative teams. However, communication, workflow or approval-related bottlenecks often delay the...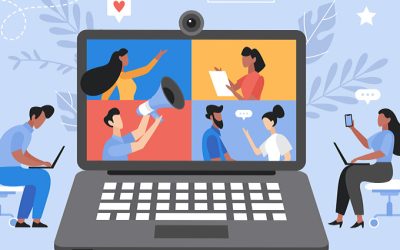 Effective collaboration is the lifeblood of modern businesses. Organisations are turning to team collaboration tools to streamline workflows, improve productivity, and enhance communication among team members. Collaboration in the workplace is the cornerstone of...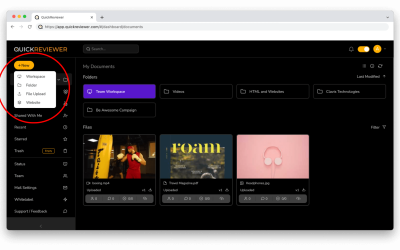 The digital age has revolutionized how we collaborate, especially in design and content creation. Review and approval processes are crucial in ensuring that projects meet the desired standards before they're finalized. Ziflow has been a popular choice for many when...
Break through the noise, Get clear client reviews on your projects "FAST". Now!