The holiday season is a time for joy, happiness, and cheer! Homes, offices, and malls are decked up in Christmas fervor, and the world is happier! However, for all the happiness and joy that prevails during this time, there are also deadlines. Most creative teams worldwide begin their holiday season work in November or early December to ensure that they can meet their customers deadlines. This also means that work from a lot of customers will start piling up around that time of the year, making management a difficult task.
Where did the deadline come from? What did I miss?
Creative teams understand that deadlines are very sneaky. They creep up on you at the last minute while you're still thinking of somehow getting the finalized design out of the door. If it is not the deadline, it is the client who decides that he does not love the design at the last moment, possibly because he did not see your last email with the finalized design in it. I've also had key stakeholders and co-workers tell me that they missed my texts, calls, emails, and multiple reminders because they did not see the notifications.
If all of this seems like your year-end scenario, you're not alone. Every year, design teams miss 20% of their targets or end up sending out designs their customers do not love just because of communication gaps. Email chains, extensive Excel sheets and dozens of productivity software try to mitigate this situation but fail—for good reason. Let's find out why.
Why do all our plans and deadlines fall flat on their back?
There are many reasons for deadlines to be missed and even the best-made plans to fail. Here's a list of some of them so you can relate to them:
Email
Emails are the gold standard of communication, but that is where it ends. Email chains can have dozens of people in To, CC and BCC—with no way for many to find out if the email is addressed to them unless they open every single email and look at the To field. I have missed some important ones due to these very reasons. Emails are great, but if used for every purpose other than communicating information, they can cause your plans to crumble like a pack of cards. Relatable, isn't it?
Excel or Google Sheets
You can use Excel sheets to successfully manage a project, however, when you need to assign responsibilities consistently, Excel or Google Sheets just cannot keep up. Additionally, with the limited messaging capabilities of the software, you are left with calls and emails to fall back to—making it a vicious cycle of never-ending emails and excel formulae—especially when stakeholders and clients are involved.
Project management software
Great for managing tasks and responsibilities, but what about client communications? A lot of design teams constantly send out files to customers and stakeholders for review—and depend on them to ensure constant reminders and transparency. If you have project managers to spare, things can still work out for you—but not as one seamless, cohesive tool.
Calls, texts and other one-sided communications
Sure, you can call, text, use Slack or Skype or other instant messaging platforms for communicating with your clients, but how do send out your design files to them? How do they give reviews? Does that get stuck on a WhatsApp group, Skype group or Slack channel with no way to provide annotations? To me this seems like missed deadlines—again!
A combination of all the above
You've tried everything—from calls to emails to chats to Skype, Slack and god knows what else, but your creative director or client does not believe that it is your fault. Maybe it is, but maybe it isn't. Who knows, right?
Transparency and accountability—the two pillars of responsibility
When it comes to making world-class designs, you must ensure that everyone knows the following:
Transparency: What is the status of the project
Accountability: Who is responsible for any holdup
Responsibility: What is being done to fix that holdup or bottleneck
If you use a combination of all the tools we listed earlier, none of them check every one of the boxes for the items mentioned here. Emails can fix accountability or responsibility, but can you tell which email from the 30-day long (or longer) email chain makes it clear to everyone about who is responsible for what? Neither can you do so on the hundreds of chat messages or Slack communications. But what does this mean? Can a design team or agency never have a manageable deadline?
They can. With QuickReviewer. Wait—Quick what?
QuickReviewer: Your deadline management genie that helps you meet deadlines (almost) every time! If you've never heard of QuickReviewer, you're in for a pleasant surprise.
What is QuickReviewer?
QuickReviewer is a design-friendly platform that helps you get your campaigns, websites, designs or just about anything to market 400% faster than ever before. It is a platform that helps you share your content, get reviews or approvals, create finalized versions and see who is holding up what in one seamless, integrated interface.
How does QuickReviewer work?
It's simple. Here's an example:
Imagine that your client is launching a new jewelry brand—and you as a creative director must get the website, content, brochures, videos, and audio files created, approved and delivered by a seemingly impossible deadline.
Does it seem like a job for 20 different software and a dozen project managers? It isn't.
QuickReviewer will help you to manage each aspect of your project effectively and seamlessly. Here's how:
Create a client folder in QuickReviewer
Start uploading the base content files
Create custom status types so everyone knows what stage the project is in
Add the external reviewers or team members to share the file with
That's it! Now every reviewer or team member gets an email with a secure link to access the files. Reviewers can now start adding comments, annotations, and feedback directly to the file, image, or website—without having to download anything. All comments are color coded, and the full-text search helps to find reviews in real-time. Versions can be viewed side-by-side for comparison—further reducing conflicts and confusion. Reviewers can easily download, approve, or reject a version and share workspaces to work even more collaboratively. What's even better is that QuickReviewer lets you approve from both your computer/tablet and your mobile phone—making it the ultimate productivity and efficiency tool.
As you can see, QuickReviewer can help you and your team ensure transparency, reliability, and efficiency in your organization. With no downloads, no apps to install (on the computer), and no emails to keep track of, your team will always know where the hold-up is. If you are late to the party, you can always look at an older version of the document and its associated comments to figure out what changes were requested by whom.
Final Thoughts
Proofing and approvals have never been this easy. QuickReviewer was built by those who have years of experience in the creative industry, which helped them ensure that nothing was missed out. Oh and did I tell you that there's a free version too? The free version will help freelancers and startups to ensure that they get their designs and websites out on time—so their customers can give them more business that enables them to move on to the advanced features that the paid version of QuickReviewer has to offer. If you're an enterprise or a large company, QuickReviewer also offers white labeling to ensure that your brand identity stays intact.
What are you waiting for? The new year is nigh! Get QuickReviewer and see how you can get more done—today!
Break through the noise, Get clear client reviews on your projects "FAST". Now! ?
Some other Posts you might be interested in.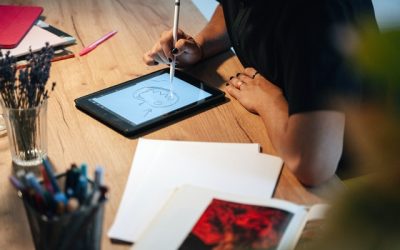 In the dynamic world of advertising, reputation and credibility is everything. Ad agencies constantly strive to maintain and enhance their reputation by delivering high-quality, innovative, and visually striking content to their clients. One key factor that can...
A video is possibly the most difficult nut to crack in the creative world. Don't get me wrong—other forms of content, such as blogs, social media posts, UI, and graphics can be as complex as a video. Still, the sheer number of people involved in the production of a...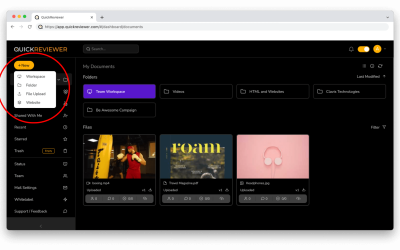 The digital age has revolutionized how we collaborate, especially in design and content creation. Review and approval processes are crucial in ensuring that projects meet the desired standards before they're finalized. Ziflow has been a popular choice for many when...