A creative director's guide to the essential tools and resources for marketing, advertising, and video production.
Introduction
As a world-class marketing, advertising or video production agency, you offer the best to your customers, and they demand nothing but the best from you. Most agencies achieve this by hiring world-class creative talent and ensuring they have the tools to help their in-house talent perform to the best of their ability.
However, in today's world, there are more tools than you can count—making it difficult for those starting up—or for agencies readying themselves for their digital transformation. Therefore, we've decided to put up the penultimate guide to help you start your agency—or give your existing agency a digital makeover.
We've organised this guide so that you can quickly jump to the section most relevant to your specific needs. For example, specialised video production agencies would not want to read sections on graphic design or image manipulation. Similarly, a core marketing agency would be more interested in marketing and SEO tools to help them perform better.
Happy Reading!
Marketing agencies
Modern marketing agencies perform various tasks ranging from online advertisements, social media management, search engine optimisation, content creation, design, lead capture, event marketing, video marketing, website optimisation and more! You've got the talent—we've got the tools that will help you stand out and get more done!
Project Management
Completing a project in time requires you to have a plan of action—and list tasks to help your clients stand out from the crowd. Additionally, using the right tools can help you give your clients a sense of transparency and visibility into what is going on. Project management software can help you achieve just that. Here are the project management tools we love:
1. Trello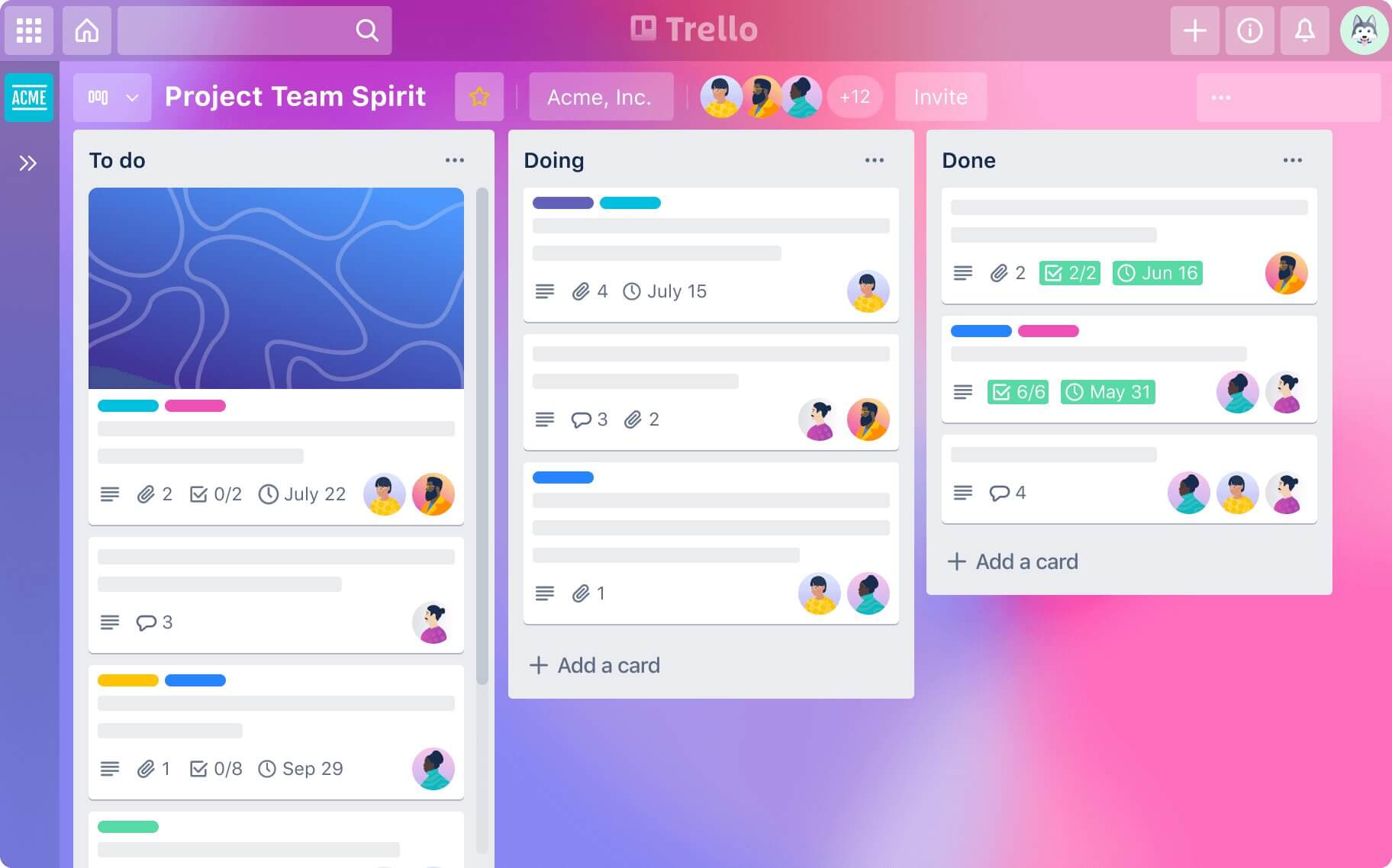 Trello was the first Kanban-style tool that I used as a freelancer back in 2016. With its interesting UI, to-do-lists, tagging and attachments, The free version of Trello has more features than what a mid-sized marketing company would need. I like it for its simplicity, easy setup and a host of tools in the free version that helped me kickstart my entrepreneurial journey. In fact, I still use Trello nearly every day for my personal projects!
2. Wrike
When it comes to project management, few tools offer the versatility that is built into Wrike. Although they do not have a free version (there is a 14-day trial though) but for a company serious about managing internal projects and inter or intra team-communication, Wrike is the first tool they should evaluate. Enterprise-ready, Wrike can help teams of all sizes collaborate and manage projects better.
3. ClickUp
ClickUp is an all-in-one productivity platform that helps both individuals and organizations manage their day better. With real-time chats, checklists, burndown charts and more, ClickUp offers a host of features that few can match in the industry. Go for ClickUp if you're just starting up or have a small agency. You'll love all the features the free version offers, but the tool does take some time getting used to.
4. Asana
If you manage repetitive tasks, workflows and processes, Asana is the tool for you. Asana offers process management automation like none other and can help your organization organisationho is doing what, by when". This means that if you're a manager or a thought leader in your organization, you'll love the features Asana offers.
5. Monday.com
Monday.com suits both freelancers and large organizations, however, the individual plan can only have 2 users. Monday offers a great UX and has fantastic Project Data Visualizations and Dashboards that can help you track the data that is most relevant to your main KPIs.
Communication and Collaboration
No agency can be successful without having clear and constant internal and external communication. This means that the team is clear about what they need to do, and the client knows what to expect. Here's a list of tools that help you achieve just that:
1. Slack
Slack is a top-rated collaboration tool that helps teams communicate with each other without using emails. With its powerful integrations, Slack can help you leverage the benefits of your other tools such as Trello, Gmail and more, right within its seamless interface. Start communication channels across teams or make a one-on-one conversation with a colleague. Slack will help you with remote and inter-office teams work better together.
2. Skype
Skype helps you connect with people that matter the most at your workplace. With integrated workplace chats and more, you know that you can depend on Skype to fulfil your enterprise messaging needs.
3. Zoom
During the pandemic, Zoom became the de-facto standard for meetings. Today, Zoom checks so many boxes for a team that it sometimes becomes impossible to live without it. If you are on a budget, Zoom has these amazing free plans that help you get online in seconds–albeit for a limited duration.
4. Fellow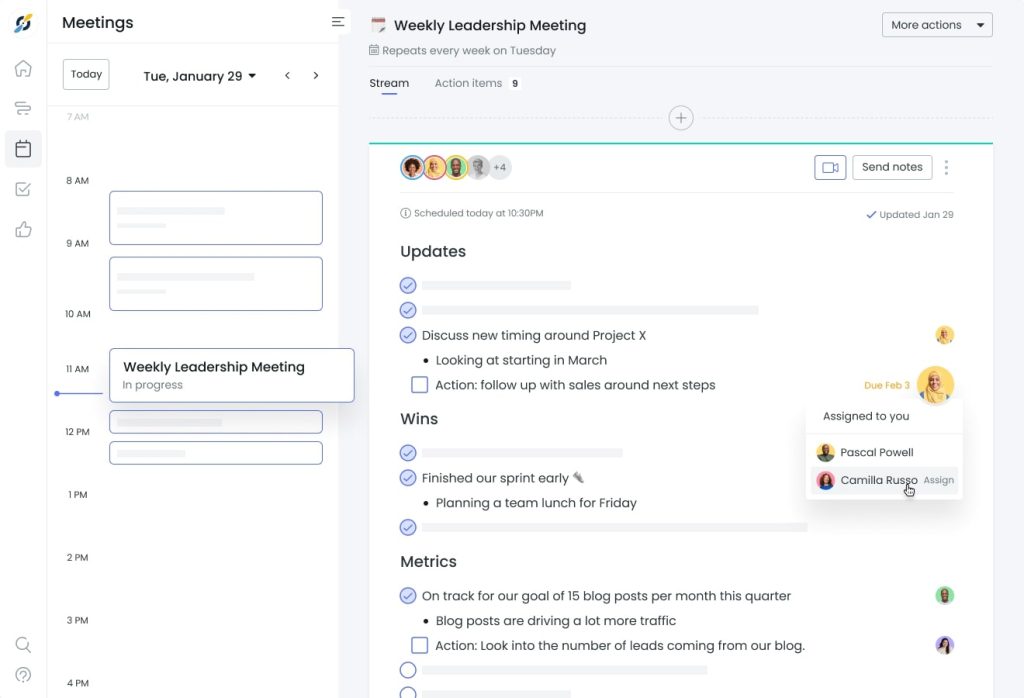 Fellow is used by top companies in the world to make their meetings more productive. You can set a template, build your agenda, record meeting notes, assign action items, organize ideas, and exchange feedback from one seamless, integrated interface.
5. Join.me
The one thing I absolutely love about join.me is their real-time presentations and mobile whiteboards. Join.me was designed from the ground up for the collaborative needs of smaller and mid-sized teams. if you're starting up, this is possibly the way to go.
Asset Management
Managing digital assets is essential—and can help you ensure that your team finds the right asset at the right time to reduce delays and improve productivity. No one likes fishing through emails at the last moment—especially when a deadline is approaching. These tools can help you stay on top of your DAM (digital asset management) game:
1. Bynder
Bynder is a DAM tool that helps to centralize, organize and share your organizations digital media files. You can use bynder to help your marketing teams create, find and use digital content and is perfect for marketing campaigns and sales efforts.
2. Brandfolder
If your organization needs an online location to organize, control, create, distribute and manage your digital assets for high availability, Brandfolder is the way to go. Part of the Smartsheet family of apps, Brandfolder offers storage and content automation in one platform, making it perfect for enterprise usability.
3. Canto
Canto is one of the simplest DAM tools that i've used. it's world-class UX helps in content discovery, collaboration, sharing, and asset management, and it even has a media delivery service for both digital and video files.
4. Widen Collective
Widen helps simplify how your content gets to the market. It brings all your content together in one shareable, searchable, manageable space where you can create workflows to drive content through creation, review, approval, and distribution.
File Storage and Sharing
A team means files. Files mean sharing. Sharing means tools. Every organization must have a way to share files effectively with both internal and external entities. This helps to ensure that your team and client are not hunting for email attachments.
1. Dropbox
Possibly the most well-known non-Google tool for file sharing, Dropbox is one of the earliest players in the market and helps both individuals and organizations share files the way it should be. Simply. A no-nonsense interface helps them stay ahead of the competition.
2. Box
Box is Dropbox for enterprise use. With better organization, security and seamless integrations with other platforms, Box is the perfect storage platform when security is paramount.
3. Google Drive
Google Drive is the most-used storage platform in the world. The Android ecosystem swears by it, and more people use Google Drive to share files than any other.
4. IceDrive
IceDrive began as a drive-sharing tool that helped individuals replicate their entire hard drive onto the clolud. With loads of storage, generous bandwidth and password protection, it is a great tool for both individuals and organizations to share massive amounts of data. IceDrive looks and feels like an external hard drive with a native OS feel and cache control.
5. Shift
Shift is the best platform for your needs if you use a dozen tools and two dozen accounts. This tool helps you connect multiple accounts across platforms such as Google, and connect all your apps and extensions in one integrated platform. No more forgotten logins and lost passwords. Shift takes care of all of this.
Social Media management tools
The world is on social media—and to get by without understanding this complex metaverse is impossible. Use these tools to help you stay in the game:
1. NapoleonCat
NapoleonCat is a cloud-based social media marketing platform that helps teams to publish content, track conversations and get social content analytics across FB, Twitter, Instagram, YouTube and Pinterest. This platform will help you easily engage and support customers across social media.
2. Hootsuite
If you're into social media marketing, it is impossible that you have not heard of Hootsuite. We use the tool to schedule, manage and analyze our social media content and engagement.
3. BuzzSumo
If you're looking for client outreach, BuzzSumo is the perfect tool for you. BuzzSumo helps you to discover the best engagement, content and outreach strategies across social media and search platforms.
4. HubSpot Social Inbox
This tool is great for managing social media engagements from one seamless interface. You can quickly identify interaction-generating content and respond to users in real time. Additionally, I love their social stream matches.
5. Iconosquare
If you need world-class social media management and reportage across Instagram, Facebook, Twitter, LinkedIn, or TikTok, you need Iconosquare. If you're unsure about the platform, there is a 14-day trial to try the tool out. What is best is that the trial lets you explore their advanced plan that can help you manage unlimited Instagram accounts and FB pages.
SEO tools
If search engines can't find your clients, they cannot scale their business beyond a certain point. Ensuring that they do requires that you have expert SEO professionals and a suite of tools to help them get the visibility your clients need to succeed. Here are some of our top picks:
1. SEMrush
If you're not on search engines, you simply don't exist for the internet. SEMrush helps you research and find the right keywords, checks your competitor's keyword strategy and performs SEO audits of your blog to see how you can win in this content-driven world.
2. Ahrefs