The finest online collaboration software enables teams to collaborate on a wide range of general and specialized activities with ease.
Employees are no longer expected to operate alone, and collaboration is the new normal in the workplace. This emphasis on collaboration should result in enhanced efficiency and production, but only if you have the finest tools to begin with.
These solutions may include anything from cloud document storage to video conferencing for online meetings, and they'd all operate on mobile devices as well as PCs and laptops.
Above all, everything should be simple to use, comprehend, and reduce misunderstanding. Every employee should be able to communicate with the appropriate person, no matter where they are in the firm, about the same issue. Then, within an appropriate procedure, address the problem.
The days of collaborative working are upon us, so here's our list of the top online collaboration tools now available to help you get the most out of your team.
1. QuickReviewer
QuickReviewer is an online proofing tool for designers, web developers, and marketers who wish to collaborate on design projects more rapidly and obtain quicker feedback and approval. It is a great collaborative tool as it makes the online proofing process very simple and remote. It aids in the examination of images, videos, live web links, HTML, PDFs, and audios. QuickReviewer mobile-responsive UI allows users to study and approve files on their mobile devices. QuickReviewer makes organizing comments on creative work easier by removing the need for many emails or files. Users can add comments by highlighting text, pointing out changes, or sketching changes, and comparing versions side by side. Adding real-world links or dragging and dropping HTML zip files to test designs on different screen widths, animated HTML banners, responsive web pages, and more will make creative collaboration a breeze.
2. Filestage
Filestage makes it as easy as possible for teams to manage the content review process. Internal and external stakeholders may easily give in-context input on videos, photos, PDFs, and other documents using the project management software and platform. The programme also generates to-do lists based on the comments, ensuring that no critical information is missed by your team. You can examine and approve files in real time with Filestage, and external partners and clients may comment on them without having to register. Version control makes project management easier, because it's simple to identify which stakeholders have signed off on a file.
3. GanttPRO
GanttPRO allows teams to collaborate on their work in a variety of ways. To begin, GanttPRO provides sophisticated task management with dozens of variables such as statuses, priority, assignees, length & estimate, time tracking, deadlines, and many more, allowing you to keep track of who is working on what. Resource management is another wonderful feature that allows for appropriate reallocation of overburdened and unburdened resources.
4. Acquire
Acquire customer support software is a user-friendly multi-channel customer communication platform.It is appropriate for all types of businesses. To provide high-quality assistance to your customers quickly and effectively, the software is packed with the newest customer interaction tools, including live chat, chatbot, cobrowsing, phone calls, and video chat. It can also track various factors of performance, automate responses and enable data security.
5. Freshdesk
Freshdesk offers robust collaboration features that promote teamwork and help your team work more efficiently. You may invite team members, agents, or business partners to discuss and resolve tickets in one single spot using our online collaboration solution. There's also a customisable team dashboard where you can track all of your team's customer support actions. It aids in simplifying ticketing, automation, reporting, and security.
6. Intercom
Intercom has powerful automation technology that allows you to set up resolution bots to handle typical customer issues without the need for human intervention. Intercom's team inbox feature allows your support staff to continue discussions with clients that are already taking place on social media sites like Facebook, Twitter, and others. It also interfaces with more than 250 applications and allows you to create your own custom connections.
7. Troop Messenger
Troop Messenger is a versatile tool that may be used by organizations of all sizes. The user navigation over this business chat application is promisingly simple for any unskilled user. Each function is self-explanatory for end users because of its aesthetically appealing and engaging user interfaces. Troop Messenger is cross-platform, including Windows, Linux, Web, Android, and iOS versions.
Troop Messenger unifies your communication efforts by allowing you to do audio and video conferencing, chat messaging and voice messaging all in one spot.
Users may also obtain answers to their How tos and all of their FAQs about using the app through in-app assistance. It also includes features like confidentiality, screen sharing and file sharing.
8. Chanty
Chanty is a fantastic online collaboration platform that you can add to your corporate messenger. It helps teams establish healthy relationships while also improving team cooperation. Make your team's communication more open and transparent. You may experience smooth communication with your teams by using instant messaging with lots of storage space, an infinite searchable history, and quick file sharing.
9. Nextiva
Small companies may use Nextiva's small business VoIP service to easily work with clients, prospects, and colleagues. Local phone numbers, automated greetings, call pop,  voicemail-to-email, SMS text messaging, mobile App, HD hold music, and more are all available through the platform. Best of all, companies may utilize the Nextiva platform to make unlimited calls and, if desired, migrate their existing phone number to Nextiva. You also receive call queuing with Nextiva, which allows you to switch on call waiting, call forwarding, and voicemail for all incoming calls to your business.
10. Flock
Flock chat is a simple and easy way to interact with groups that increases team productivity by reducing email. You may text message, video call, and use to-do lists to connect with your team, as well as manage projects using to-do lists, group discussions, polls, and reminders, and integrate your favorite applications. Flock provides read-only channels, allowing you to have a dedicated space in a team messaging app for particular types of organizational information, such as HR guidelines or legal department updates.
Conclusion
Employees from all over the world are now frequently seen collaborating on a single project. The trend toward a more scattered workforce is gaining traction, demanding online collaboration. Online collaboration is used to bridge the gap between employees owing to remote locations, hold successful meetings, and guarantee that everyone is on the same page at the same time. This will aid in the speedier completion of tasks as well as enhanced staff communication.
Some other Posts you might be interested in.
The Review Software Standoff – Part 1 – QuickReviewer vs Filestage In today's fast-paced digital world, efficient collaboration and project management are crucial for your creative teams. However, communication, workflow or approval-related bottlenecks often delay the...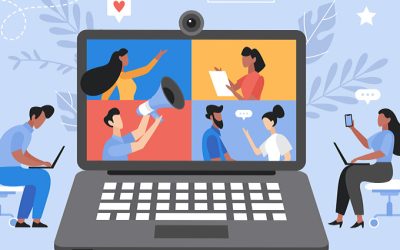 Effective collaboration is the lifeblood of modern businesses. Organisations are turning to team collaboration tools to streamline workflows, improve productivity, and enhance communication among team members. Collaboration in the workplace is the cornerstone of...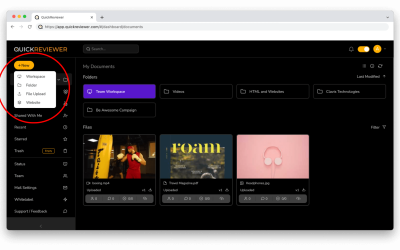 The digital age has revolutionized how we collaborate, especially in design and content creation. Review and approval processes are crucial in ensuring that projects meet the desired standards before they're finalized. Ziflow has been a popular choice for many when...
Break through the noise, Get clear client reviews on your projects "FAST". Now!