What is a Video Production Workflow?
A video production workflow, also called a film production workflow or video production process, is a collection of sequential actions that are carried out to complete the creation to publishing process based on a set of pre-defined criteria.
It's basically a set of rules, actions, and, of course, a lot of data that all work together to accomplish a certain purpose. Workflows are essential for practically any project, from web development to video creation, particularly when several people, and procedures are involved.
Video project planning, evaluation, and approval, as well as file and asset management, are all included in the video production process. It establishes safeguards to guarantee that each production phase begins when the project requirements and permissions have been completed. It follows a predictable flow from pre- through post-production.
The Need for Video Production Workflows
Without the proper process, reviewing and approving videos can quickly become problematic. There are a lot of moving parts, and if you're not careful, they'll quickly become a tangled, expensive mess—especially if several adjustments are required.
When video content goes through multiple cuts and versions, it needs to be reviewed by many stakeholders, and often gets exported in different formats, lengths, and codecs for distribution and marketing across multiple media channels. Add multiple videos to the mix—and this makes it critical to follow a well tracked workflow. We know that over 85% of the marketeers out there use video as a marketing tool. Translate that in to huge volumes, making it important for video teams to keep track of each project while marketing and advertising teams publish them… that's a lot of content development and versioning.
Furthermore, despite the complexity of video creation, video review and approval timeframes are becoming increasingly constrained as video campaigns demand speedy dissemination via social media and other on-demand content channels. Brands and video production teams require a well planned workflow to manage resources and moving pieces effectively, keep projects on pace with timelines, and hold individual stakeholders accountable to achieve these demands.
Finally, video production practices may help video production and marketing teams figure out who has watched what and when. This means collaboration can be more accurate, timely, and relevant to each step of production, which is the gold standard for busy video teams who need to have videos filmed, edited, and delivered rapidly. Video workflow can reduce common delays and expensive rework at the post-production stage as a result of delayed feedback.
Here are some advantages of implementing workflows that help achieve goals:
Improved Teamwork.
Effective organization of resources.
Avoid misunderstandings.
Define roles and duties clearly between video production and partners.
Clarify the evaluation and input received from a disparate stake-holders.
Organized versioning and editing.
Maintain project deadlines throughout pre- and post-production.
Ensure that all video assets are compliant.
Enhance video dissemination in the required formats.
Video production procedures are very important for brand consistency and compliance. Companies must deliver consistent narrative and branding across all communication platforms in order to satisfy today's audiences. A predefined video editing workflow offers companies with a set of guidelines to ensure that all films follow the same narrative, ensuring that they are consistent with your or your client's goal, values, and origin storey.
Stages of Video Production Workflow:
Below are the video production steps to successfully follow the process.
1.       Pre-production
Pre-production is an important part of the process. It's where you effectively build the groundwork for your video. This step determines how well your video will perform ultimately.
This stage of the process entails all of the time-consuming prep work necessary to get your movie up and running. You focus on refining your concept – whether it's drafting a script or assembling the crew that will carry it out – this is a critical phase. The following pointers will assist you in achieving a smooth pre-production process.
Making a creative brief and approving it
Making a storyboard or script and approving it
Making a budget and a list of necessary equipment's
Creating a shot list and a production schedule
2.       Production
The production step guarantees that all aspects of your strategy are in sync, resulting in your perfect video.
This stage includes:
●     Set up and lighting
●     Filming
●     Collecting b-roll & voice-overs
●     Generate rough cut & behind-the-scenes promos
You should save all of these materials in one place and provide automatic notifications to your marketing and social media teams when new promotional assets become available for approval and usage. For a full campaign portfolio, save all of these promotional assets and short clips alongside the completed product files.
3.       Post-production
In post-production, all of the raw film footage and sound recordings are integrated to produce an unified entity. At this stage, the video is collaboratively edited, and it may go through numerous rounds of editing. A good post-production process is critical for ensuring that everyone communicates effectively, remains focused on the project scope, and produces the finished movie on time (or even quicker).
These are the steps you and your team will have to work through as you conclude your video production.
●     Video editing.
●     Iterative and collaborative review.
●     Version comparison.
●     Final approval.
●     Delivery.
4.       Distribution And Promotion
Finally, you must create a procedure for distributing and advertising the finished product. While promotion will vary depending on your content strategy and project goals, most workflows will involve the stages below.
●     Establish key metrics and a reporting strategy
●     Develop a plan for distributing content
●     Format content
Video Production Best Practices: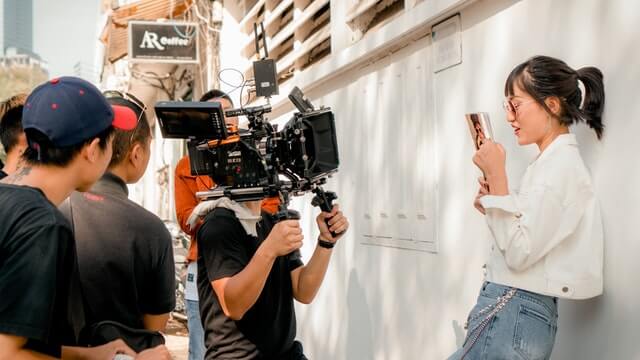 Create a naming convention that everyone follows.
There will be several variations of the same video. Make sure they're simple to distinguish from one another.
Maintain a neat and orderly filing system.
It is critical to be organized. Your video processing workflow will go more smoothly if you keep your work organized.
Aim for a good edit.
This implies that as you're recording your video, keep in mind how it'll appear after the cuts and focus your shooting on that notion.
Always have a backup!
This is self-explanatory, but backups must be kept. You should have a backup plan in case something goes wrong. This applies to not only the footage but also the remainder of the video production process.
Conclusion
It's easy to become overwhelmed by the video creation process. Hence if you have a mechanism for breaking down these big projects into manageable tasks with clear deadlines and expectations to lead contributors through each step if you have the correct production workflow in place.
Some other Posts you might be interested in.
The Review Software Standoff – Part 2 – QuickReviewer vs Frame.io Stress reigns supreme when it comes to creative workflows. Creative teams often firefight with clients, video production, and post-production teams. However, as reviews have become increasingly...
A video is possibly the most difficult nut to crack in the creative world. Don't get me wrong—other forms of content, such as blogs, social media posts, UI, and graphics can be as complex as a video. Still, the sheer number of people involved in the production of a...
What is knowledge management? Knowledge management refers to an organization's or team's capacity to work together toward a common goal. Knowledgebase management encourages teams to go outside the box when developing methods for attaining their goals. It's a...
Break through the noise, Get clear client reviews on your projects "FAST". Now!